I wanted to see if all the hype about 3D Sexvilla was true. After about an hour of goofin' around creating characters, deciding on the various sex toys I'd want to incorporate into my story line, and quibbling over the minutiae of dressing the girls I'd lovingly designed, I got down to some heavy scrotation.
My main dirty sex muppet was "Cindy". Thanks to an advanced design engine that allowed me to get her face, hair, and tits exactly how I wanted them, I felt something of a connection to her once it was time to slam some ham — not a reaction I was expecting for a computer animated girl from a 3D sex game.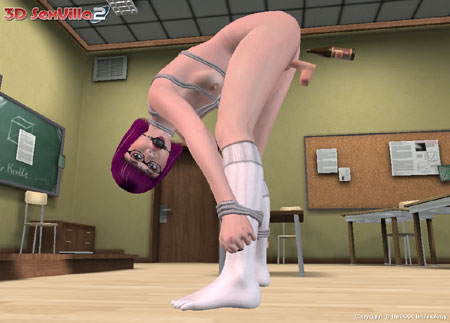 Our first naughty encounter was in her high school homeroom. I dressed Cindy in next to nothing, put a ball gag in her mouth, roped her wrists to her ankles, and proceeded to sodomise her with a beer bottle and a huge dildo. Hey, she was just happy she didn't get stuck with any homework. Calculus isn't nearly as much fun as gulping my digital ballberry juice, despite what my math nerd friends might tell you.Her fat-titted pal Maya came in to see what we were doing, and I instructed her to climb into the 69 position with Cindy, and the two of them yodelled in the gully for about 15 minutes while took stock of their lez-tastic prowess. Things started getting pretty creamy, especially when I plowed a big fat cigar in Maya's ass while Cindy tongue-mangled that polygon clit like it was a watermelon lollypop.
Hot and heavy? Yes it was. Cindy came like rocket launcher while I grunted a load on her pretty face and purple hair. With all the racket, I was getting a little worried someone might hear us out in the hallway, so I took some dirty photos to commemorate the occasion, and moved the action to Sammy's house.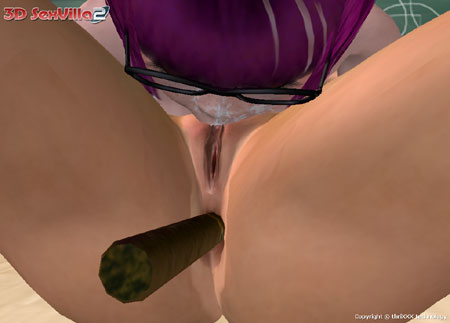 Sammy seemed like a cool enough guy. I designed his dumb ass earlier, and he was happy to do exactly what I told him to, which — not surprisingly — was to fuck the pudding out of our two lady-friends while I arranged the positions and intensity of the action. Maya's cartoonishly massive boobs started annoyingly getting in the way of our four-way gangbang, so I took her to the digital dressing room to reduce them in size, and put a cute grey camisole on her.
Cindy impaling herself on Sammy's porksword was a recipe for orgasms, and in no time, ol' Sammy had blasted his gravy trumpet into the girls faces, so I bid him farewell. I was pretty worn out, but the ladies just stood there like a pair of wanton sluts, rubbing each other's pussies and moaning like cum-junkies high on goofjuice. Mind you, that is exactly what I made them do. (rubs hands together in a most evil fashion)
I think what worked the best for 3D Sexvilla 2 and what made it such an improvement on earlier versions was the huge variety of toys, costumes, sex positions, range of sex partners, and the wide variance of control over each of these aspects. And simple? Damn. The controls were so easy to use once you fiddled around with them for a few minutes. If a computer-tard like me can figure this crap out, most anyone could.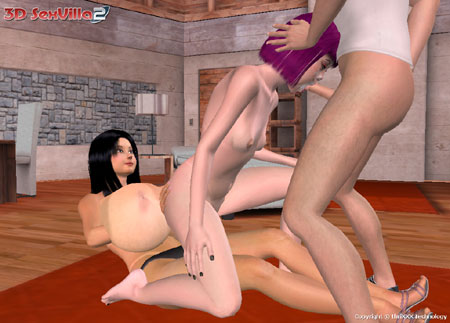 The choice of free fuck, quick mode and story mode mostly play out the same with similar results, but in the story mode you have an actual conversation — using a choice of responses to questions she asks you. Give the right ones, and she'll become a very freaky girl — the kind you don't take home to mother.
The shop system also adds a lot of replay value, which is really important. The more women you bring to orgasm, the more sexcoins you earn — and with those you can buy new positions, outfits, locations, and interesting new ways to customise your characters. The FaceMaker is by far the most significant improvement to the game from earlier versions, and girls can be made over with many adjustments — although I noticed that ass cheek variations aren't an option yet. For an assman like myself, this was a bummer (excuse the pun). Never mind though, the folks at ThriXXX are adding new things to buy with your sexcoins on a regular basis, so fist pumps for that.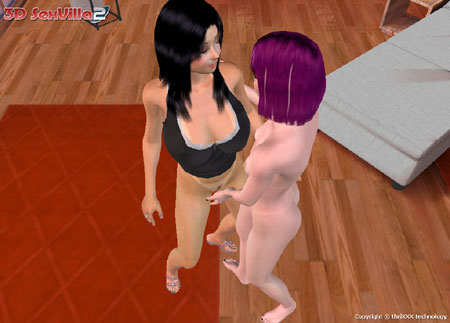 I'm told an even more realistic experience can be had when one obtains a "Virtual Sex Stroker" or an "Interactive Fleshlight", which you connect to your computer and hump. Imagine a device that lets you control the action in real-time with your dong?! The future is here now, my friends. Let's FUCK IT!