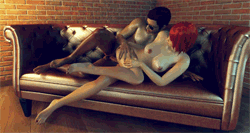 3DX Chat is a break-away experience that stands apart from the current crop of one handed sex games. While there is a steamy single player mode,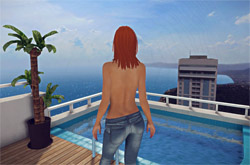 the main experience is more akin to a meet and fuck chatroom. The graphics are drop dead lushtacular and there are just enough interesting common spaces to add some variety and social interaction. While it is an MMO of sorts, there aren't any vast open spaces or massive scheduled social events going on like in Red Light Center or Second Life. This is more of a cozy casual hanging out and blowing passers-by kind of scene.
I started out in my swanky apartment overlooking an exotic Rio-esque location. There was an inviting hot tub on the balcony just begging to be christened with eager glistening bodies.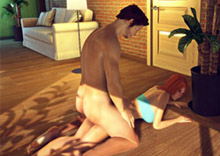 The lighting and rendering in my little home space was warm, rich and as realistic as any AAA game experience. The graphics were truly sumptuous.
Seriously, you can move shit around and the lighting and shadows change in real-time. I'm sold.
After placing all the furniture just so, I decided to venture forth to one of the more sociable locations.
Life's a Beach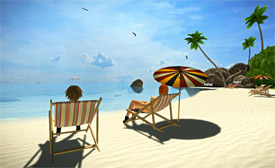 The beach location was pretty much a picture postcard tropical paradise complete with sand, surf, socializing and if I was lucky some sucking and swallowing. The best part of this location was diving off the dock and making a big splash in my designer butt floss. Before I could get too much sand in my bikini though it was time to dive into the club for a little drinky drink.
The other exotic locations include a nightclub, yacht and a BDSM party room. These spaces are surprisingly populated but never so full that that they slow down the interface. I think there are a bunch of parallel dimensions going on here so you don't get 500 people in one little room. The only catch is that you might pop home for a minute, return to the pub and find that your buds are all in some alternate version of the beach without leaving you a note. Not a biggie as you can always hyperjump to a fuck buddy (assuming you got their number …).
The focus here isn't on exploring vast worlds or creating the perfect solo-sex experience. The developers want you to interact with actual real individuals in whatever sleazy corner of the interweb they may inhabit. Your basic experience here is either meet-chat-fuck or play dress up in your apartment with your personal fuck buddy.
Nip and Fuck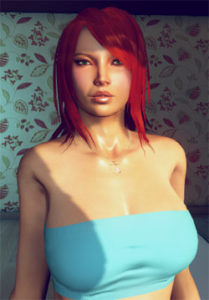 Avatar customization is the weakest link in the current version of 3DX Chat. You can pick from a few different faces and swap their makeup but you won't be cloning the girl next door or your exact cyber-likeness. The models are pretty attractive though, certainly better looking than most of the current crop of sex games out there. Still, this is a feature that I'd love to see get some loving in the future. You can customize some basic body proportions, clothing and assorted bling but who cares about that stuff. We're here to fuck right?
Home is Where the Hard On Is
Once you find someone in one of the clubs or on the beach you can invite them back to your place for some nookie nookie. Here's where the fun really starts. You can choose from a variety of standard poses, do the nasty, swap more poses and then get slathered in the creamy white stuff. You don't have a lot of interactive control during sex but the animation is pretty steamy. Unlike real life (for some of us at least …) you can keep getting hard and fuck like rabbits with an endless supply of sticky cumshots. The cum sticks around for a while as well so you can get a nice messy bukkake buildup going. There are a fair amount of standard poses ranging from missionary positions to a blowjob or two. You can also just sit around and chat, kiss or cuddle if you're into that sort of thing.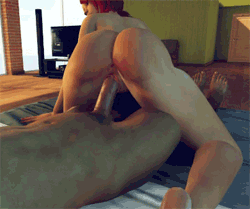 Bottom Line
Shortcummings: Limited customization of your avatar body and face. A bit short on sex positions. Not a lot of interactivity during sex. Why don't any of these games have oral creampies? Is that too much to ask? Spunk looks a bit like white paint. No free to play version.
Tasty Bits: Graphics are top notch gorgeous. Models are pretty hot though a couple of BBW's in there woudn't hurt. Sex is steamy and creamy. Customizing your personal space is a blast. There is support for the 12 people who own the VStroker masturbation device and the Oculus Rift VR headset (I actually have one of those!).
Last Word: Fucking around with other people in the virtual space is actually pretty hot, regardless of which gender you choose to play. There are enough horny people in the world to make it interesting and I suspect some of them are even worth hanging out and chatting with. I'm more of an in-and-out type myself but it's nice that you can choose the experience that suits you best. If you're really feeling unsociable, there's a sexbot you can play with on your own or you can just sit around and watch some porn on your virtual TV. There is no free to play version at the moment but trust me if you sign up for a month you'll get your money's worth in porking time.