Cherry Dolls is more of an interactive porno film than an actual game. This doesn't mean it isn't fun to play because it is. There just isn't a lot of "gameplay" in it. There are no customization screens or sex shops hawking leather pants, ball gags and greased up corncobs. Just pick a girl, pick a place and start porking. If only life was that easy!
Main Course
The main menu offered a simple choice of three girls and three locations. I decided to start out with Bobbi in the garden. (Why do these games always remind me of some kind of slutty game of "Clue". "I deduce it was Miss Scarlet in the dungeon with the butt plug!". Now that's a board game to remember. But I digress.)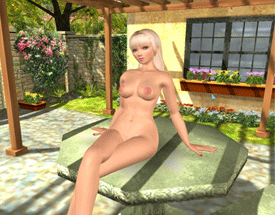 The first thing you notice about Cherry Dolls are the cheerful, brightly lit sets and the soft, well proportioned women. Bobbi was naked when I arrived, lounging seductively on the patio table. She wiggled her tits and looked deeply into my eyes. During the loading screen I was informed that her "favorite food is scallops". I made a note of it. There were no foreplay options but I wasn't complaining. On with the action!
I selected the 69 position to start with. Bobbi and I got down and dirty on the patio with some mutual slurping and sucking. I fiddled the speed control to vary the action and took the occasional "rest" to let her catch her breath. It didn't take long before I was grunting and feeding her a fresh dose of chowder with her scallops. My vision went white but after a brief pause we were right back at it again. Obviously my digital counterpart has no problem getting hard again. Must be all the v1@gra floating around in cyberspace. The "body guard" position sounded fun so we switched to that one for a while. I half expected the butler to come out with a plate of caviar and jar of vaseline. "Just a gin and tonic for me please!"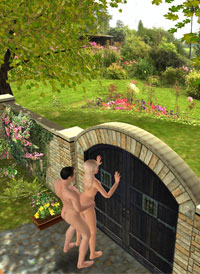 We porked in a few different positions, came all over each other and then I tried the same thing with the other girls. There isn't a lot of gameplay in Cherry Dolls aside from the sex. But should there be? This game really got me thinking about the whole concept of 3d sex games and where that balance of steamy sex vs gameplay should settle out. But that's a meandering thought for later.
High Points
The models are sweet and sexy. The action is genuinely erotic and the sounds are realistic and plausible. The animation is quite good and since you don't have much to do other than move the camera around you can focus on the steamy action. There's a whole lot of grunting, panting and squealing from both fuck buddies. Cherry Dolls lends itself quite nicely to doing a bit of machinema (filming the action and editing it later). You could grab some nice footage and make your own porn video. The models get pretty hot and bothered as they hit their climax. Having less controls on screen leaves your hands free for other stuff …
Low Points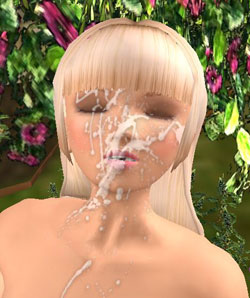 Cherry Dolls takes a long time to download and install. It also takes a poon's age to load new scenes or even to swap poses within a scene.
When the guy is ready to blow his wad you get a brief option to choose between two cumshot options. If you don't pick one then much grunting occurs and his cock stays in whatever orifice it happens to be visiting. I was kind of hoping for a nice overflowing creampie but no such luck. It was all internal. The grunting was nice though.
The cumshots have a funny shadow on them that makes them look kind of fake and you don't have any interactive control over them. After you cum you go back into the same sex position but the cum is miraculously cleaned up. Personally I like it to build up so she's got a nice creamy coating for round two. There's very little in the way of sex controls. You basically have one slider to make things go faster or slower and that's it. Note that this is in both the "pro" and "con" sections.
Bottom Line
Cherry Dolls is a bit of a sleeper. It sneaks up and grabs your cajones when you aren't expecting it. If you boot up this baby hoping for a fully interactive experience with a lot of options, accessories and "god-forbid" actual gameplay you will be disappointed. However, once the thing starts purring along you realize that Cherry Dolls is really a subtly flavored simulation of intimacy with attention to the details that count. Watching Bobbi and nameless dude perform on the patio was genuinely erotic and arousing. I was getting wood! The sounds are realistic and not overdone. There is no slutty cookie cutter "fuck me harder" porn dialogue to be heard. Just soft moans and squealy gasps of pleasure eventually peaking to a crescendo of tingly orgasm. My wife might actually like this game!
For the one time price Cherry Dolls is a good deal. Think of it as having a couple of 3D porn videos on your computer that you can manipulate the camera inside of. There isn't a lot of ongoing appeal in terms of escalating gameplay or unlocking new content. If you're not into a lot of gameplay and just want porn with a few controls this could well be the "game" for you. It's also one of the few 3d sex games that's likely to appeal to women. There is a demo version available.