by Bobocat
More Lives Than a Sex Kitten
At first impression Life Selector looks like another top shelf video porn site. Lots of titles, niche categories, shiny models and slick graphics. But there's far more to this site just below the covers.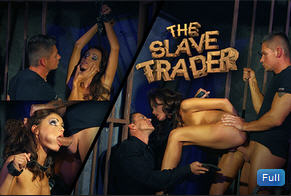 Life Selector is the latest attempt to create fully interactive video porn. The developers are based in Hungary but all the productions are in english targeting a North American market.
We've seen this before with DVD's, VirtuaFem and a host of others, so what makes this site any different? First off, there's a fuckwad of content and it all looks very professional. The interface is slick and the trailers are enticing. Plus the models are cute, hot and sweet in all the right places.
Get Your Game On
But I'm not here for mainstream porn. I want to make some choices, direct some action and live some steamy fantasies. The trailer implies that I can do some crazy alter ego "Select your life" stuff. I'm thinking of dialing up a secret agent scenario reminiscent of Total Recall. I vandt to be buff like Ahn-ie so I can poke those slippery slave gulls vit my greasy 10 foot conan spear! Alas, this particular fantasy isn't quite on the menu yet.
What do they have to offer?
Schoolgirls: check. Pizza guy: check. Sexretary: check. Exorcism: check!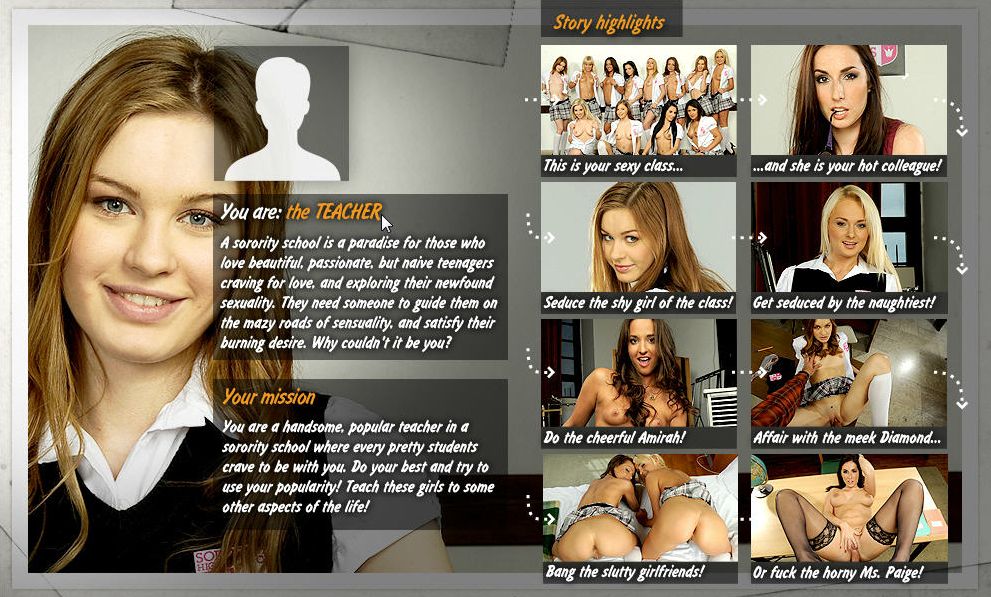 There's also a good variety of BDSM and slave-y type scenarios. Each one with a little trailer you can watch and a helpful preview image of the interactive choices within. noice!
Sexual Studies
Sorority Secrets is one of the highest rated titles and seems like a good place to start. The trailer shows a smorgasborg of hot slutty students eager for some oral tuturing. The game starts with a nice walkthrough of a well populated all girls school. It's always a good sign when there's less competition from the studly jocks.
After a bit of setup in the teacher's lounge, I meet my first potential slutty encounter in the hallway. I decline Ivana's thickly accented offer to explore the storage closet as I'm late for class. I'm sure she'll be around later for the after school special.
In class I get a to choose which of the pretty students I want to taunt with my heavy handed teaching style. I ask Diamond (is this a school for strippers?) to come up for a nice oral presentation at the front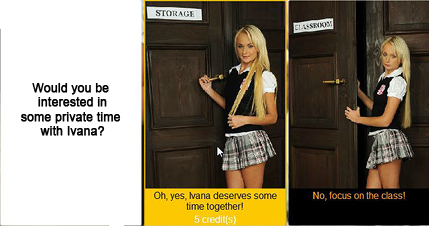 of the class. After shelling out a few credits I'm presented with a little striptease fantasy. Not quite the tonsil exploring exam I was hoping for but wait … the other girls are leaving and that sweetie Diamond is sticking around after class. I love those happy endings.
While Diamond is busy sucking on her new assignment the interface presents me with some nice variations on the action. I can choose to slap her with my cock, fuck her face or get a little ball licking action in. All roads lead to the inevitable mouthful of cream and cookies but it's fun to take some detours along the way.
After class I head on back to the teachers lounge to rest my loins for a while. It's good to note here that sometimes the choices aren't always what they seem. Who would have thought that bribing the math teacher 19 credits would leave me alone with the cock hungry Miss Page? Oh well, no rest for the horny.
After Math
Overall the interface for Life Selector is the best I've seen for this type of interactive video porn. The pacing is slow and steady but the scenarios pull you into the fantasy much more than non-interactive porn does.

The game is free to play until you get up to one of the sexy choices. Then you have to choose between parting with a few credits or backing up to explore another story path. The amount of credits is proportional to the experience you'll get. If you run into something that costs you 19 credits you'll generally get a good full fucky-sucky session out of it.
Short End
It's all pretty glossy. It would be nice to see a few titles that have more of an amateur feel. They don't have any mano-a-mano gay titles at the moment but they are planning to launch some around the end of 2013.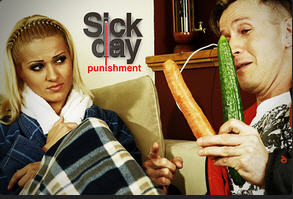 The Good Stuff
Lots and lots (and lots) of high quality content. The interaction and choices are well integrated and you only pay for the paths you want to play. All the titles have a great little preview trailer and image to show you what to expect. You can replay the paths you choose as many times as you want for free.
Last Word
There's something for just about every fantasy here including foot fetishes and BDSM. Definitely worth a look and a playtest. The interface is modern and web-based. It doesn't cost you anything to check it out and you can work on your Hungarian accent.