It is a truth universally acknowledged that without porn and the military we would still be living in caves.
What really turns me on is time travel.
I want to be able to capture a moment in time and re-live it as realistically as possible. Or live somebody else's moment. If you've ever seen the 1983 movie Brainstorm that's pretty much my ideal vision of virtual reality short of building a Holodeck.
In Brainstorm Christopher Walken invents a way to record and play back human experience from the POV of the person living it. One of the sweetest scenes involves a sex tape that one of the team members splices to create a looping orgasm. After emerging from a sexually induced coma he re-evaluates his life, starts dressing like a low rent Hugh Hefner and rattles on about sexual religious experiences.
That's the VR headset I want.
Since the gold VRush of 2016 there have been an assortment of high and low end headsets hitting the market. Pretty much all of them have had the ability to view some form of smut. Currently, if you want to watch porn on an Oculus or Vive you need to download a 360 video and view it in a special viewer like Whirligig.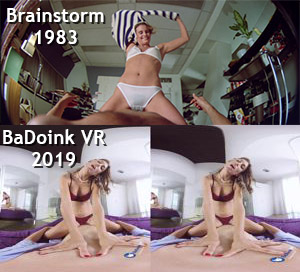 Some tube sites also allow you to stream 3D stereo video porn directly to your VR headset. You can use your smartphone and a $20 viewer to view porn in 3D stereo. However, it is a bit tricky to get into and the higher end headsets are obviously more expensive.
The Iris VR headset from PVR mall is an attempt to make VR porn more accessible to Joe Stroker. PVR mall has removed the pesky middleman of browsing, installing and hacking your way to the good stuff.  Just slap it on  and start slapping off. At least that's the theory.
This dedicated porn viewing headset comes from adult entertainer and entrepreneur Ela Darling who has been an advocate for VR porn for a while now. I've seen her speak at mainstream conferences and it's a blast to see her up there evangelizing while the nerdy hipsterpreneurs soak it up.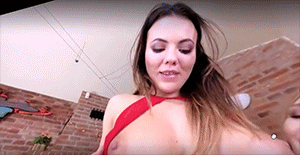 If you've never experienced 3D stereo porn in a headset like this you will definitely be impressed. The experience is about as close as you can currently get to being there. It puts a whole new level of realism to POV video. When she is riding you hard and comes up close for a big sloppy kiss it can be truly breathtaking.
The PVR Iris is light, comfortable and has a nice clean design. It is self-contained so you're not tethered to a computer and you don't have to stuff your smartphone into it. There are simple controls on the side for navigating the menus and video controls. You look at something and click to interact with it. The headset connects easily to wi-fi so you can browse the built-in store to view and download videos. There are 10 Gigs of free internal storage which is a good start for your personal spank bank. It also comes with a 64Gig micro SD card for even more storage. The resolution is a crisp 2560 x 1440 which is higher than the Vive, Oculus or PSVR.
A few caveats
The headset is great for viewing stereo porn and that's pretty much it. It's a dedicated device and you can't bypass the built-in operating system. I suspect some enterprising hacker could find a way to run other stuff on it but that's probably not going to be the case for the average spanker.  I would recommend treating it like that sticky Hustler you hid under your bed as a teenager. Meaning that you probably don't want your kids to stumble across it and take it to school for show and tell.
There is no focus control or adjustment for IPD (distance between your eyes). That's generally not a problem unless your eyes are particularly far apart or close together. If you wear glasses or contacts you will want to keep them on while wearing the headset. Large nerdy glasses might not fit easily. Most modern headsets have similar issues.
You can "theoretically" convert other 360 and 3D VR videos for use on the headset using a tool called Mini Wonder. However the process is painfully slow. I converted a one minute 30mb file and it took close to 10 minutes on my fast VR computer. I would hesitate to try that with a longer file that would typically be between 200mb to 3 gigs. The end result was fine though.
There is an interesting theater mode that could be useful for watching regular videos. Unfortunately you can only watch videos that are downloaded from the site or that you convert through the painfully slow process described above. I don't know why they made this so restrictive as it would be a great device to watch other 360 and 3D stereo videos if it was just a bit more accessible.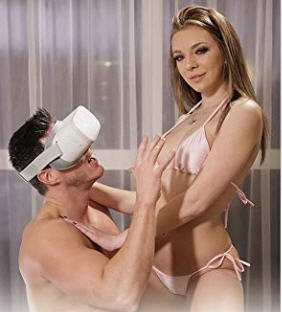 Are you content with the content?
The PVR Iris headset provides access to a built-in store with a fair number of 2 minute preview videos. You can purchase full length videos through the website to make them available on the headset. You will end up paying between $2.50 and $12 for premium full length videos. There is one free full length video available each week for you to download. The available premium content is the standard fare from popular VR studios like BaDoink and VirtualRealPorn. There are also a bunch of videos from eastern European studios that specialize in pearly white tattooed models that don't get much sun. Personally I prefer something a bit more on the raw amateurish side like what you would find on Metaversexxx.com but this content is still pretty good. The preview videos all seem to have audio that is out of sync for some reason. The downloaded videos don't have this issue. There was one video where a few girls were chatting in some Slavic language while the other ones blew me. That was  pretty hot. I also found that the download speed on the premium videos was a bit slow for me. The best I could get was 500k / second even though my wi-fi is blistering fast for most things. That meant it took well over an hour to download a premium video of around 50 minutes in length. You may fare better.
At $199US The cost of an IRIS PVR headset is less than you would spend for a high end VR system but a fair bit more than for a smartphone headset you stick your phone into.
As of this writing the Oculus Go is also selling at $199 US. How do they compare? Well, the OGO is a more versatile VR device and has very similar specs to the Iris PVR. It doesn't allow you to use an SD card so you won't be able to store as many raunchy videos but with the OGO You can stream VR videos directly from many streaming sites. I couldn't find any way to use a browser to stream videos on the Iris PVR other than the 2 minute previews in the store. 
Who this is for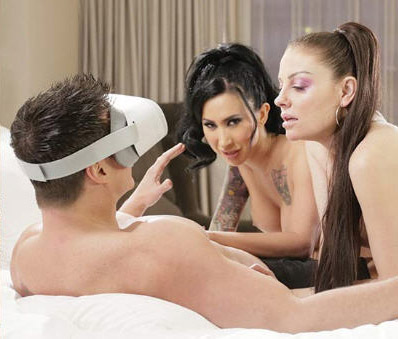 If you are looking for a VR device specifically for viewing porn and you are OK with paying a bit extra for premium content then the PVR Iris is a high-quality easy to use stand-alone headset. Everything you need is contained in one dedicated device. The resolution and comfort are as good as anything you will find currently in the market. The setup is easy and it does what it does well. 
Who this isn't for
If you want something more versatile that includes the ability to stream videos off of popular tube sites and do other types of VR stuff then you may want to consider an Oculus Go or one of the other general purpose VR headsets on the market. You will need to go through the viewing guides on those sites and there be a bit more tech fiddling but the process is pretty straightforward. 
Final Thoughts
It took me a few days to warm up to it but I do like the convenience and quality of the Iris headset. Despite a few glitchy things like slow download speed and being locked into their store for content. In the end I found myself watching and really enjoying the fully immersive porn. Even the 2 minute previews are fun to graze. When those trashy Czech girls get up close to tongue wrestle and whisper in your ear it's an experience you will never get from watching 2D porn.
The VR market is a fluid beast right now. Anything you buy is going to be obsolete in a few years. That shouldn't keep you from investing a bit in the current technology though. Whether you go for the Iris, Oculus Go or just a $30 case to slap your smartphone in I highly recommend giving something a try. It's the closest you will currently get to Brainstorm.
If you want to check out the what Iris PVR has to offer you can visit their content website here. The headset is available at PVRmall.com and on Amazon.