The Assignment
Log on to Red Light Center
Create the dorkiest avatar you can.
Get laid as quickly as possible.
I was pumped. Red Light Center is a "social network" that exists for one reason. An online fornicatorium where a wink of the mouse gets you a ticket to ride on the bonercoaster. But would real people react the way I expected?
Foreplay
I booted up the Utherverse client and made a brief stopover in the orientation lounge. This cozy penthouse apartment is the place for newbies to chat with guides, get used to the controls and gawk at each other's slutty avatars. I spun a few moves on the dance floor before scooting off to the sidelines to tweak my bod.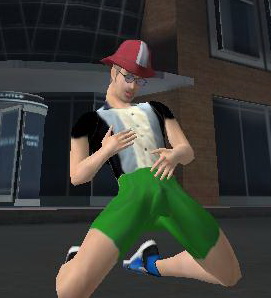 I wanted to pick an avatar that didn't look like a ken doll fresh out of the mold. Someone who wouldn't have a chance in the real world. You could argue that the whole point of an place like Red Light Center is to create your fantasy persona but I wanted this to be a bit of a challenge. In a world where everyone is buff and has a six pack you have to stand out somehow. You can't customize your face or pack a paunch so I put on the stupidest outfit I could find. Let's just say it involved lederhosen. I noticed the "mini" button and before you could say "The plane! The plane!" I was dorky AND vertically challenged. This virtual orgyland must have someone who was into leprechaun sex. Hell – there was probably a whole island of horny little munchkins at the end of the virtual rainbow. This was going to be a breeze.
While downloading RLC I watched the introductory video which explained what I could expect online. There are four types of characters to encounter in the virtual world:
blue – Staff. Do they "teach" you or just give you a manual?
green – Basic free members. Can't have sex until they upgrade.
gold – VIP members. These are the ones I needed to find.
red – Working girls. As a last resort I could pay for some nookie.
The intro video hinted that the "passion club" was the land of endless orgies. I should probably make this the target of my quest. They probably have a whole dungeon for little guys like me.
Feeling It Up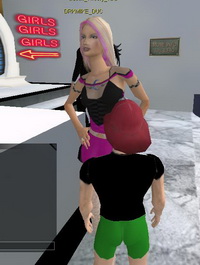 I approached a buxom leather goddess with delicious exposed cleavage and a colorful tattoo. "What's the fastest way to get laid around here?" I asked. She LOL'd me back. "No – I'm serious really!" I said. Ahhh .. she was probably a guy anyway.
I tried again with "amyhot". "Would you teach me how to have sex?". I inquired politely. She suddenly vanished into thin air or possibly a dimensional vortex. Steeerrrrike two! Maybe I should try again on Saint Patrick's day.
Wandering into "Cam Girl Alley" I stumbed onto a cobblestone street lined with live webcam screens. There were a few people milling around carefully ignoring me. I was still smarting from my recent rejection. What the fuck. I clicked on a screen and was instantly transported to a webpage where a beautiful girl was tapping away on a keyboard with hot latino music in the background. She was very sweet but too real for this particular venture. Back to the virtual world.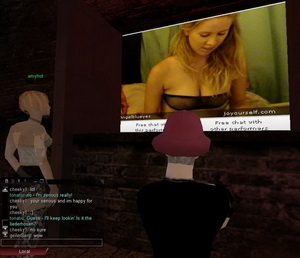 Redlight Center has a cool feature where you can change "dimensions". You stay in the the same "virtual" space but all of the sudden everyone is speaking Italian or reading Martha Stewart Quarterly. Perhaps I could find a dimension where leprechaun sex was no longer taboo? I was getting nowhere fast in here.
I couldn't resist a quick peek in the XXX porno theatre. I had to see if there was some kind of virtual Pee-Wee Herman in there.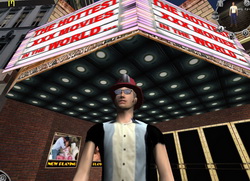 I made my way down a long twisty hallway to a dark gallery of nekkid girls. Clicking on one of them I was treated to a little pop up porn video. Not bad but I can find this anywhere on the net. Onward ho.
I followed a sweet thing named "valerieann" into the BDSM bordello. In the real world I might be considered a stalker but here all avatars were created equal. I hoped she was into leprechauns.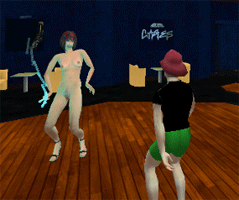 Inside the bordello was a big empty room with hanging go-go cages and a raised dance floor. Valerieann was dancing seductively alone in the middle of the room. The ubiquitous dance floors in Redlight Center truly are a well designed feature. You just hop on and pick from a menu of dance moves ranging from the cool to the ridiculous. You can swap and sequence your moves and even loop them if you're lazy. I joined valerieann on the stage and proceeded to boogie down with some line dancing. After impressing her with some classic 80's head spinning moves Valerieann started taking her clothes off! Woo Hoo! I was going to get get lucky at last. I fumbled around trying to figure out how disrobe but my controls were jammed. I couldn't find the "undress" button! This was worse than a bad prom date. According to the docs the disrobe control was supposed to be on the bottom of the screen but I couldn't find it. I eventually discovered that I could click on my avatar icon to strip down but it was too late. Valerieann had moved on to more experienced pastures while I was fumbling with my lederhosen. I pulled up my shorts and continued my quest for the "passion club".
On the street again I noticed the RLC Art Gallery and decided to pop in for a quick look. Interesting place. There was a ton of user created artwork hanging on the walls. Some of it was pretty good.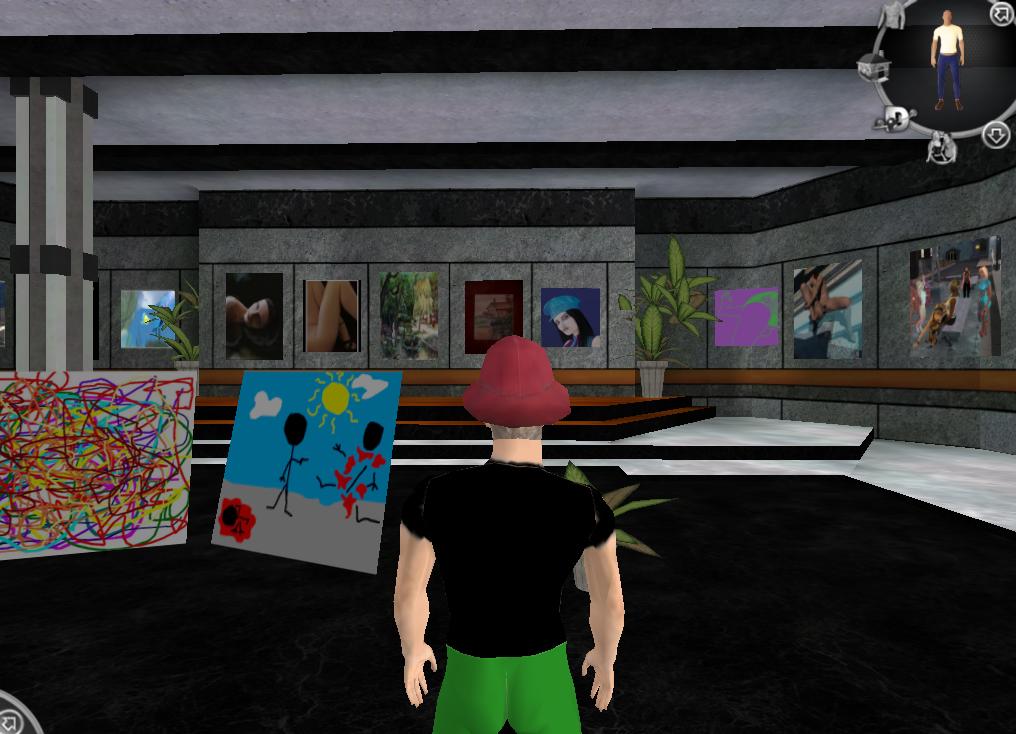 Clicking on a painting took me to the home page of a cute Japanese girl who had videos of herself shredding guitar solos. It's nice to know that not ALL the buxom cyber-cheerleaders are really balding 45 year old greaseballs living in their mom's basement. I was later to learn that these "profile pages" are key to being accepted in this cyberspace. They help to "keep it real".
Penetration
After some aimless wandering I found the Passion Pit at last! I stripped down to my fireman's hat, grabbed my "hose" and ran inside to provide relief to all the greased up horny maidens!
My first encounter was BBWKittyKat who was standing in the corner. She didn't respond to my chatting so I guessed she must be offline (or ignoring me). I checked out her profile page and she was indeed a cute BBW in real life. Her profile even had a couple of "real" pictures of her fucking something resembling a corncob. Hot dawg!
There were a few virtual types standing around in "the pit" and two of them quickly hopped onto a bed for some nookie. They didn't seem to mind me watching so I took a few snapshots of their amateur action for the "scrapbook". There was a cocoa colored lass standing vacuously by another bed. I left clicked on her and "invited for sex". This was it! I was finally going to get to fire my sausage-torpedo! We hopped eagerly on the bed and muff dived into a tangle of positions.
The interface for sex in Redlight Center is a lot like the interface for dancing. You can swap positions at any time and there's a virtual Kama Sutra of poses to choose from. Many of the positions open up secondary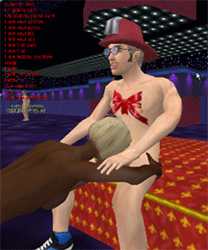 options like "deep throat" or "grab her head". These subtle variations suck you deeply into the action and make the whole experience much more interactive than just hitting the "fuck" button. The animation is good and the feeling of control really made it fun. You can even cuddle. This is one well thought out sex game.
When we were done I noticed my newfound fuck buddy didn't have a name floating over her head like most of the citizens. She had been pretty quiet and obedient during the whole encounter. Did I just have sex with a robot? Holy Blade Runner. Does that count? Hey – rocks off are rocks off in my book.
So there you have it. How I spent my summer vacation.
Redlight Center is a very different experience than any of the "solo" sex games I usually review. It's a unique environment where you can really feel safe in a social setting. Someone who has difficulties dealing one to one with "real" people could really start to come out of their shell in a world like this. You have the freedom of not being judged for your particular perversion and are actually likely to find someone to indulge it with you.
You can play in the metaverse for free to get a taste for it and experience the social scene first hand. A VIP membership costs $20 a month which allows you to strip down and have sex with other avatars. You also get access to extra video content and "other" stuff.
A quick survival guide to Redlight Center
Don't dress like a leprechaun and give yourself a stupid name. These are real people and they respect other real people acting like real people. At least the ones I met.
Don't be a jerk. Rejection hurts here just like in real life.
Walking up to someone and asking to fuck isn't going to get you anywhere. You need to approach with caution and build up at least a one night stand level of relationship. Tell them they have a nice dog collar or something.
Spend some time pimping up your profile page. A blank profile is the kiss of death. They will think you are some kind of virtual Ted Bundy. Your profiles can be private and only shown to your "friends" if you choose.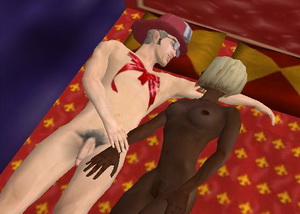 Redlight Center is a social space. Expect to meet and interact with other people. This is not a one-sided do as you please fapomatic sex game. I imagine that you could actually make some good cyber-buddies here.
Bottom Line
If you are into trying a new experience RLC is definitely worth a look. You can decide down the road if you want to become a VIP or not. If cyber sex with real people is what you are looking for then this is definitely the best bet around. While I only managed to have sex with a robot I did meet some fun people and I have a new perspective on the whole metaverse scene. It doesn't matter if you're in a wheelchair, 800 pound shut-in or a steaming hot nightclubber. Everyone is equal on RLC.